Summer Office Hours
The school office is on "summer hours". The office will be routinely staffed on Tuesday, Wednesday and Thursday from 9am-1pm and by appointment as needed. Both email and phone messages will be checked regularly.
Summer CHOICE Sales - CHOICE cards will be available for sale whenever the office is open.
School will reopen on Wednesday, August 29. This will be a full day of school with both PreK Enrichment and Aftercare available.
"Meet & Greet" for younger students and "Morning in Middle School" for students entering grade 6 will be on Tuesday, August 28th. PreK Meet & Greet for child and parent/caretaker will be from 9:30-10:30. Meet & Greet for Grades K -4 for child and parent/caretaker will be from 10:30-11:30. "Morning in Middle School" will be from 10-11:30 for students entering 6th grade. Students new to 7th & 8th grade are also invited to participate in "Morning in Middle School" from 10-11am. Students attending "Meet & Greet" or "Morning in Middle School" are encouraged to bring in their classroom supplies.
Be sure to be on the look out for your "Back to School Mailing" in August.
Again this year, this "mailing" will be sent to you electronically at the email you have designated as your primary family email address. If you are not sure that the email address we currently have on file for your family is the "best one to use", please send the email you want used to smsoffice@stmarysimsbury.eduk12.net. Put "Back to School Mailing email"in your subject line and we will be sure to update our school database(s).
Please note - If you have not returned your Family Enrollment Form & Fee for 18-19, you will not receive a "Back to School" email packet since your enrollment remains incomplete until these are received. Please contact the school office with any questions.
iPad Orientation Meetings for Rising 6th Grade Students & Students New to Grs. 7 & 8 -
All students entering 6th grade and students new to SMS for grades 7 and 8 are required to meet with Mrs. Hatch prior to beginning iPad use. Each student must be accompanied by at least 1 parent/guardian. During this brief meeting, iPad use guidelines will be reviewed along with basic information regarding good digital citizenship. Students will also receive their school email credentials and if all required forms and the iPad coverage fee have been turned in, students will receive their iPad at this meeting. If required forms and fee have not been turned in, iPad use will begin upon receipt of all required items.
Click here
to reserve your meeting time.
Summer Playgrounds
- Catch up with your friends & meet some new ones!
There will be a playground play date for incoming
PreKindergarten
students on Thursday, August 23, from 6-7pm at the SMS playground.
All SMS families
- new & returning - are invited to a "Back To School" Playground Playdate on Sunday, August 26, at 5pm at the SMS playground. Families are encouraged to bring a picnic blanket and supper!
Please note that these playground playdates are not "drop off" events. These are opportunities for our families to attend together to get acquainted and/or reacquainted as we start a new school year.
Virtus Training
-
Anyone who wishes to volunteer at school (including chaperoning field trips) or at after school events attended by students must complete Virtus® training and have a background check completed. There will be a Virtus® Training session on Tuesday, September 4th in the 5th grade classroom.
If you are planning to attend, please RSVP to smsoffice@stmarysimsbury.eduk12.net. If you need to attend Virtus® Training and cannot come to the session on September 4th, go to www.virtusonline.org/virtus/ and then click on First Time Registrant to find other training sessions in our area.
Hot Lunch Order Period for September will open on Friday, August 24th
- Orders will be accepted until Friday, August 31. This will be your only opportunity to order hot lunch for September. Please note that the hot lunch program will begin serving on Friday, September 7th. From August 29 - September 5, no hot lunch will be served and all students will need to bring a brown bag lunch. Again this year, all orders for hot lunch must be placed via the Educonnect Parent Portal. Your Back to School email packet will include your parent portal credentials. Payment may be brought in when stopping in for "Meet & Greet"/Morning in Middle School or sent in on the first day of school.
Hot Lunch Volunteers are needed!
If you are Virtus trained and can help us serve hot lunch, we look forward to you volunteering.
Click here
to sign up. We are able to offer hot lunch only because volunteers step up to serve, so we hope you'll consider helping out, even just occasionally. It's a great way to share in your child(ren)'s day! Training is provided on your first day of volunteering.
CHOICE News - The profit percentage for Lands End is now 15%.
Shopping for school uniforms with CHOICE cards is a great way to work on your family's CHOICE obligation. Lands End cards are available in the school office in various denominations or may be ordered on-line using GL Scrip's Prestopay option.
Click here
for more information.
Used Uniform Exchange
-
Click here
for an updated inventory of items available from the Used Uniform Exchange.
Athletic News
Hurray for Fall Soccer
- Our program is 5th-8th Co-Ed soccer. We play Friday afternoons. It's an easy commitment and a fun opportunity for the students to play with their classmates. We will play 6 games 2 at the end of September and 4 in October. To sign up, just initial the box next to Fall Soccer on your
2018-19 Permission Slip for Physical Education, Field Day & Athletics Form
. This form will be part of your electronic Back to School Packet and must be completed for every student in grades K-8 each year. The Back to School Packet will be emailed to you in mid-August.
We are also looking for a Soccer Coach.
If you are
Virtus trained
and have some soccer knowledge and have been inspired by the World Cup then let us know you are interested in coaching! Please email - adirector@stmarysimsbury.eduk12.net or call the school office.
"Every Brick Has a Memory to Share"
Sponsor a brick for our new St. Mary Courtyard
Now through mid-September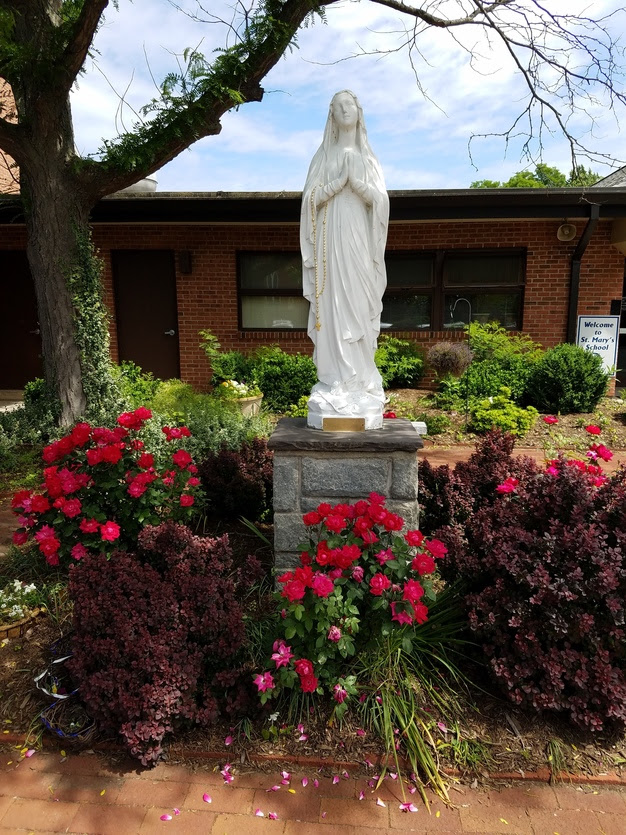 You can create your own personalized brick with an uplifting message, a memorial to a loved one, commemoration of a momentous occasion, or a recognition of your family name.
By sponsoring a brick for our exciting Campus Connection project, your brick will be placed in the circular pathway surrounding our beloved St. Mary statue within the new Courtyard. Please
click here
to learn more and place your order.
Alumni News -
Madeline Mancarella, SMS Class of '11
, had the opportunity to spend some time in Italy this summer as part of a three week study abroad experience in conjunction with the Sant'Anna Institute in Sorrento. Madeline, along with twenty-one fellow Western New England University students, took two classes, Italian Cultures and Covering Italy. Students were immersed in the local culture, studied and reported on the country's rich history and contemporary culture, toured the beautiful Amalfi Coast and the Pompeii Ruins while learning about the Italian food and wine industry. Madeline is working toward a degree in Communication with a concentration in Media Theory and Production.
Some of the SMS Class of '14 enjoyed a pre-college send-off reunion.
It's wonderful to see so many great colleges & universities represented
in their choices! We wish them all the best as they begin this exciting chapter.
Summer Fun -
Mrs. Gore and her daughter, Sarah,
got chummy with the "Cubby Bear"
at Wrigley Field in Chicago!
Sean O. (rising Gr. 7) in Ek Baalam, Yucatán Peninsula Mexico.
Tomb of Ukit Kan Lek Tok.