Hot Lunch Order Period for October Open Now!
Orders for October hot lunch will be accepted through Friday, 9/14/18. All orders must be placed via the
Educonnect
Parent Portal and payment should be sent into school as soon as your order is complete. Please keep in mind that this is your only opportunity to order hot lunches for October - NO late orders can be accepted.
Hot Lunch Volunteers Are Needed!
We are always happy to welcome new volunteers to the hot lunch program & training is provided on your first day of service. If you are Virtus trained and can help serve lunch, even just once in a while, please
sign up
for the days that will work for you. Serving hot lunch is a great way to be a part of the school day and enjoy the spirit of our school and and the happy energy generated by your child(ren) and his/her/their
friends!
What is Advancement? Come to our Open House and learn more about us and the kinds of events we host throughout the school year.
We have great opportunities for sharing your time and talent to help continue making our school great!
Join us for our morning or evening Open House on Thursday, 9/13/18. Stop in for bagels and coffee in the lower church at
9am
or drop by for a glass of wine in the 5th grade classroom at
6:30 pm.
All are welcome! See you there!

Spirit Wear Shop - New PE Shorts Approved for Uniform Wear on Gym Days!
Uniform approved "basketball style" unisex gym shorts are now available to order! $20 each.
Youth XS thru XL and Adult XS-XXL are available. Click here for an order form.
SMS School Board Welcomes You to the New School Year
- Please take a moment to get to know your school board and learn more about the important role the board plays in our school's operation.
Click here
.
The next school board meeting is scheduled for Wednesday, September 19th in the lower church at 7pm.
All are welcome to attend.
Carpool Parking Reminder
- Last spring, at Advancement's Cinco de Mayo event, there was very spirited bidding during the live auction for the coveted "first & second parking spots"in the carpool lot. These spots have now been clearly marked to help everyone remember which spots are reserved for last year's successful bidders. The great news is, these spots will undoubtedly be up for bid again at our next big event - next year, you could be enjoying one of these spots!
Athletic News - Fall sports and clubs are getting underway!
Soccer
5-8th Co-Ed
Started Friday, 9/7/18 3:45-5:00pm
Coach Fraser
Instructions:Students meet in PC walk to Iron Horse Fields together. (Pickup at Iron Horse)
$30 fee for participation
PE Club
Wednesdays - Grades 1-5th 3:45-5pm
Thursdays Grades 5-8th 3:45-5pm
Coach Gangloff
Instructions: Meet in the PC after school until Mr. G picks you up. (Pick up in North Parking Lot)
$40 per month of participation
Running Club
Mondays -Rain delayed this club's start this Monday.
Will begin Monday, 9/17/18
- Grades 2-8th
Coach Williams
Instructions: Meet in the PC until Mrs. Williams picks you up. Pick up at Iron Horse Fields at 4:30pm.
$30 for 6 running sessions
Basketball Club
Fridays -
Begin this Friday, 9/14/18. 3:45-5pm in the Parish Center.
Grades 4-8th
3:45pm-5pm.
Coach Gangloff
$40 for 8 sessions September-October (Pick up North Parking Lot)
Please make checks out to St Mary's School and direct them to Mr. Gangloff's attention.
Campus Connection - Be Part of Mary's Garden!
"Every Brick Has a Memory to Share"
Sponsor a brick for our new St. Mary Courtyard
Now through mid-September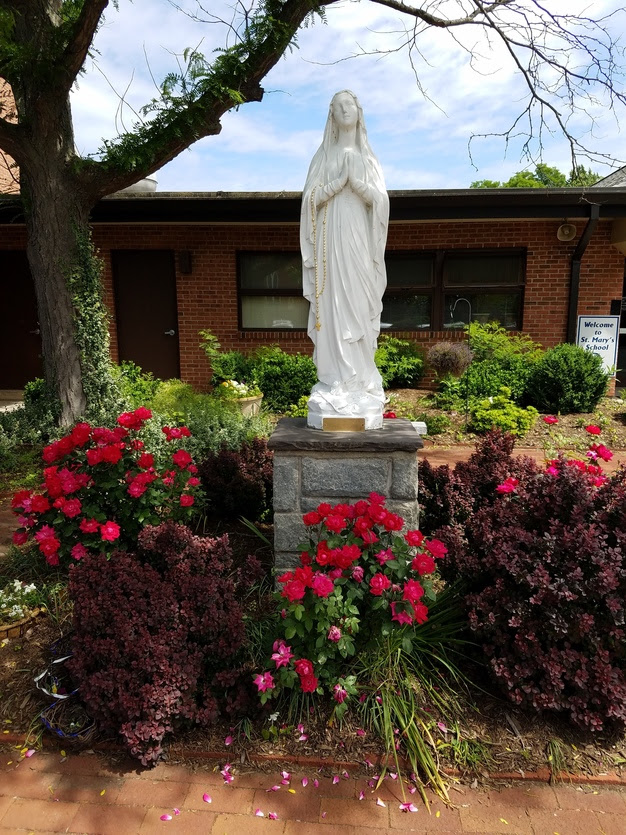 You can create your own personalized brick with an uplifting message, a memorial to a loved one, commemoration of a momentous occasion, or a recognition of your family name.

By sponsoring a brick for our exciting Campus Connection project, your brick will be placed in the circular pathway surrounding our beloved St. Mary statue within the new Courtyard. Please

click here

to learn more and place your order.
Grade 8 Fundraising - It's time for the annual mum sale & carwash! Mum orders will be accepted through this Friday, 9/14/18. Each year, our 8th grade conducts a number of fund raisers to help defray costs associated with their graduation activities and field trip. Thanks in advance from our 8th grade for your support!
Click here

to download and print an order form for beautiful fall mums! Available in several sizes and colors, these will definitely put you in a "pumpkin spice" frame of mind and help our 8th grade! All orders & payments must be received in the school office NLT Friday, 9/14. Checks should be made payable to St. Mary's School with "Gr. 8 mum sale" in the memo line. Mums will be available for pick up in the Parish Center on Friday, 9/21 fr
om 2-4 pm and after all Masses during the weekend of 9/22-23. Thanks in advance for your support!
Mark your calendars for Saturday, 9/22, & look forward to a clean and shiny car! 8th grade students will hold a car wash on 9/22 in the north (playground) parking lot from 8am-12noon. Advance tickets will be available at "Back to School Knight".
Scholarship Opportunity -
The Lands' End Starboard Scholarship is now officially open for students in Grades 6 and higher.
Up to 7 scholarships of $10,000 each will be granted, one student for each grade 6 – 12.
Click here
for an electronic application. Applications will be accepted until December 7th or until 3,000 applications are received.
Alumni News
SMS Alums Thomas(SMS Class of '16) and Ava Howard (SMS Class of '17)
participated in theNational Day of Service in remembrance of 9-11 at the USS Intrepid
in NYC. Thomas is one of over 13,000 children born on 9/11/01, so this day of service is
particularly meaningful to the Howard family.