Wondering what to do for dinner tonight?
Enjoy a delicious dine in or take out from Joe Pizza and help our 8th grade!
Back to School "Knight" is this Friday, 9/7/18
We are excited to offer a whole new format & also child care for Back to School Knight!
Parents will still visit classrooms but there will also be an information fair where you can learn more about all the different events, programming and volunteer opportunities we offer here at St. Mary's School. Wine and cheese and coffee and dessert will be served. Please look for the flyer that went home in your child's backpack today for more information!
Our childcare Back to School Movie "Knight" will be from 6:30 to 8:30 pm and feature the Disney movie
Moana
. Light snacks and drinks will be served. Our librarian, Mrs. Mortillaro, and After Care Supervisor & Substitute Teacher, Mrs. Livingston, will be supervising along with help from some of our 8th grade students. Movie "Knight" will be held in the lower church, in the library. Drop off is between 6:00 and 6:20 pm and is on the side of the church where construction is not taking place across from the rectory.
If you would like your children to attend, please
click here
.
Cadet & Advanced Band and Instrumental Lessons will begin on Monday, September 11.

There will be a meeting for parents with students beginning instrumental music and band lessons for the first time this year. This meeting will take place right before "Back to School Night" (Friday, 9/7) at 6pm in the grade 4 classroom.

If you have a student entering grades 4-8 that is interested in beginning instrumental music and band, please plan to meet in the grade 4classroom at 6pm. NOTE - This meeting is NOT required for parents of students that have previously participated in band.
Picture Day! Individual Student Photos for all students, PreK - 8, will be taken on Monday, September 10th by Lifetouch Photography.
Order forms for portrait packages were sent home with each student on Friday, August 31.
Please note that students may wear "business casual" attire on picture day.
Eighth grade students will receive additional dress guidelines from Mrs. Work. A photo is taken of each student even if no portrait package is ordered since a photo is needed for the school yearbook. Group Class Photos will be taken on November 12th. Makeup and retake individual photos will also be taken on that day.
September

School

Mass - Our first

school

Mass will be held on Tuesday, September 11th at 9am
in the church. All are welcome to worship with us. Please remember that no physical education uniforms should be worn to Mass.
Annual Notification regarding SMS Asbestos Management Plan -
Click here
to read this annual notification.
Athletic News - Fall sports and clubs are getting underway!
Soccer
5-8th Co-Ed
Starting Friday, 9/7/18 3:45-5:00pm
Coach Fraser
Instructions: Beginning 9/14/18, meet in PC walk to Iron Horse Fields together. (Pickup at Iron Horse)
Special NOTE - This Friday, 9/7, team will meet in PC and practice will be in the SMS North (playground) parking lot. Please pick up at the North lot.
$30 fee for participation
PE Club
Wednesday 9/5/18 - Grades 1-5th 3:45-5pm
Thursday 9/6/18 Grades 5-8th 3:45-5pm
Coach Gangloff
Instructions: Meet in the PC after school until Mr. G picks you up. (Pick up in North Parking Lot)
$40 per month of participation
Running Club
Mondays - begins 9/10/18- Grades 2-8th
Coach Williams
Instructions: Meet in the PC until Mrs. Williams picks you up. Pick up at Iron Horse Fields at 4:30pm.
$30 for 6 running sessions
Basketball Club
Fridays -
Due to Back to School Night Basketball Club will begin 9/14/18 not 9/7/18. 3:45-5pm in the Parish Center.
Grades 4-8th
3:45pm-5pm.
Coach Gangloff
$40 for 8 sessions September-October (Pick up North Parking Lot)
Please make checks out to St Mary's School and direct them to Mr. Gangloff's attention.
Campus Connection - Be Part of Mary's Garden!
"Every Brick Has a Memory to Share"
Sponsor a brick for our new St. Mary Courtyard
Now through mid-September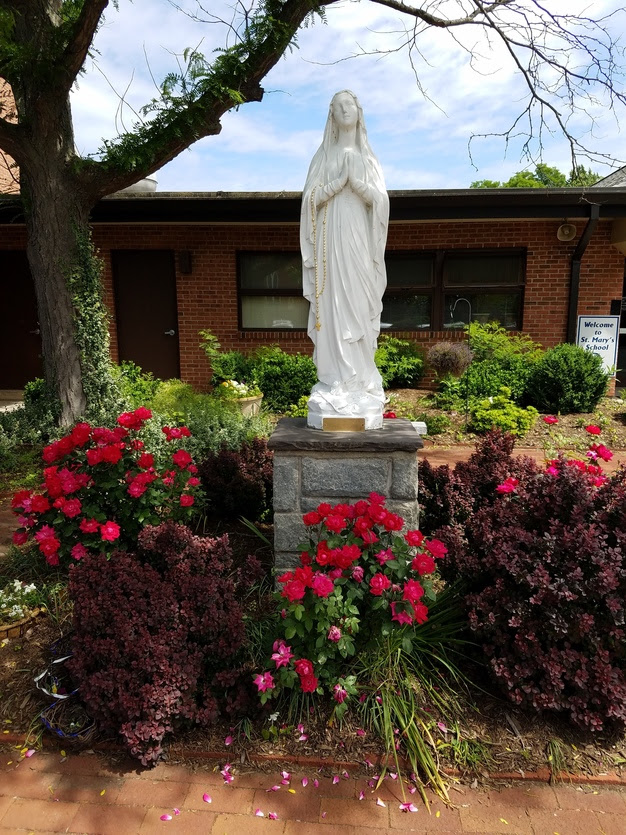 You can create your own personalized brick with an uplifting message, a memorial to a loved one, commemoration of a momentous occasion, or a recognition of your family name.

By sponsoring a brick for our exciting Campus Connection project, your brick will be placed in the circular pathway surrounding our beloved St. Mary statue within the new Courtyard. Please

click here

to learn more and place your order.


Grade 8 Fundraising - It's time for the annual mum sale & carwash! Each year, our 8th grade conducts a number of fund raisers to help defray costs associated with their graduation activities and field trip. Thanks in advance from our 8th grade for your support!
Click here

to download and print an order form for beautiful fall mums! Available in several sizes and colors, these will definitely put you in a "pumpkin spice" frame of mind and help our 8th grade! All orders & payments must be received in the school office NLT Friday, 9/14. Checks should be made payable to St. Mary's School with "Gr. 8 mum sale" in the memo line. Mums will be available for pick up in the Parish Center on Friday, 9/21 fr
om 2-4 pm and after all Masses during the weekend of 9/22-23. Thanks in advance for your support!
Mark your calendars for Saturday, 9/22, & look forward to a clean and shiny car! 8th grade students will hold a car wash on 9/22 in the north (playground) parking lot from 8am-12noon. Advance tickets will be available at "Back to School Knight".
Supporting SMS - Here are 4 super easy ways to support our school -
Again this year, our school is participating in the
Big Y's Education Express
program. This program earns us points that we can redeem for school supplies. This program will be active until 12/26/18. For more information and to register to participate,
click here
. No need to re-register if you signed up last year.
We are also participating in
Stop & Shop's A+ Rewards
program. New participants may register beginning 9/7/18. No need to re-register if you've signed up previously.
Click here
for more information and to register.
Participation will also continue in
Shoprite's Education
program
Click here
to register. Our school code is
18436.
We are still (and always!) collecting
Box Tops for Education
! Please send them, neatly clipped, into school at any time!
Hartford Gospel Fest at Bushnell Park Pavilion -
Music, Arts, Food Trucks, Vendors, Exhibitors, Gospel Choirs and more music!
Saturday, 9/8/18 -noon to 7 PM
Free of charge; Bring a lawn chair and your friends
Signs of the Season
Well, it still feels like summer but Sara (Gr. 6) and Kareem (PreK) enjoyed some apple picking that makes us think of Fall! If you are out and about having Fall adventures, we'd love to share your pictures as well - just email smsoffice@stmarysimsbury.eduk12.net.